This Hatch Green Chile Quiche is a spicy take on the iconic dish. With or without the meat ingredient, this is a delicious and tasty simple dish.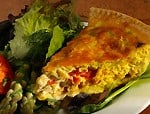 If you decide to go for the full meat option, brown meat and onion over medium heat. Drain.

Heat frozen green chile in a saucepan over low heat to at least 165ºF. Cook 15-20 minutes.

Layer meat and onion mixture in a lightly buttered 8" x 8" casserole dish. Use slotted spoon to layer green chile. Add cheese.

Mix together beaten eggs, milk, flour, salt and pepper.

Pour egg mixture over layers.

Bake at 350º for 45 minutes.