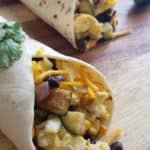 In a large skillet, heat vegetable oil over medium heat.

Add green chile sauce, corn, zucchini, onions, garlic, and beans.

Simmer uncovered for 5-10 minutes, stirring occasionally.

While vegetables are cooking, crack eggs into microwaveable dish. Add water and lightly stir.

Microwave egg mixture on HIGH for 30 seconds. Stir. Microwave for an additional 30 seconds.

Add eggs to vegetable mixture. Using a spatula, cut eggs into bite-sized pieces.

Warm tortilla on a comal.

Spoon vegetable mixture onto tortilla. Top with cheese.

Roll into burrito. Serve warm.
Option: You may substitute pinto beans for black beans.