At Bueno Foods, our purpose is to have a positive influence on people's lives through our products and organization. We strive to make people's lives better with the opportunities and jobs we provide and through our community involvement.
From our inception, Bueno Foods has always believed in giving back to our community. We are a home-grown part of this community and we want to make a difference.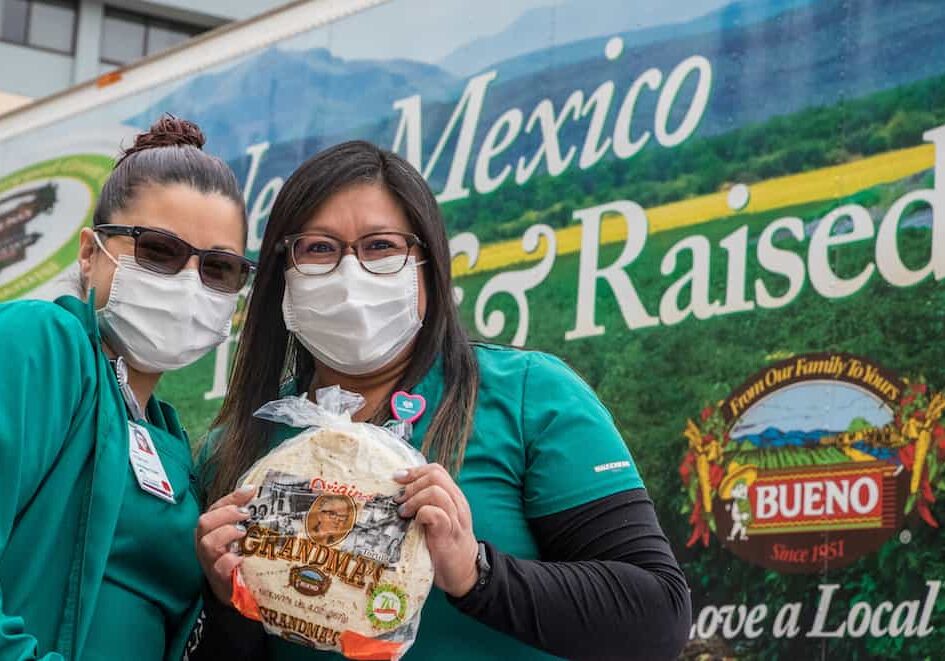 Helping to Meet Basic Needs
We support a host of organizations through United Way, such as those that serve the most vulnerable in our community including impoverished children and women, the homeless and hungry.
We regularly donate thousands of dollars of food to local food banks, to centers that feed the homeless and to community organizations for their fundraising activities.
We continually support many church and community fundraising activities by contributing product, money and volunteers especially for programs that benefit women and children. We participate in and sponsor local fundraising events for many causes.
During difficult COVID times, we have supported the hundreds of workers at UNMH with a morale boost--in the form of thousands of free packages of our signature products--chile and tortillas.
Interested in sponsorship and donation opportunities?
The Bacas strongly believe education is a way to move out of poverty and into the middle class. We encourage education by giving student scholarships, rewarding educators and providing paid internships to college and graduate students.
Over the years, we have given scholarships through the Hispano Chamber of Commerce, Highlands University, the University of New Mexico Presidential Scholarship program, The University of New Mexico's Center for Entrepreneurship, the General Library at The University of New Mexico and the South Valley Academy.
We support Central New Mexico Community College Foundation (CNM) with an endowment for student tuition.
We provide paid internships to college and graduate students.
We also support the Golden Apple Foundation which recognizes and rewards educators and we support New Mexico Agriculture in the Classroom.
Members of the Baca family have served on many scholarship committees, taught at the Anderson School of Management and served on the University of New Mexico Presidential Search Committee.
Supporting the Barelas Community
Bueno Foods supports the South Valley community of Barelas where Bueno Foods is located by providing hundreds of jobs in this "Pocket of Poverty."
We have helped raise hundreds of thousands of dollars for the Barelas community through federal grant programs that are used for housing and community development.
The company has contributed thousands of dollars to the National Hispanic Cultural Foundation, which benefits the National Hispanic Cultural Center, whose mission is to maintain and celebrate the Hispanic heritage. We have sponsored the New Mexico Chile Harvest Festival which brought the greater Albuquerque community into the heart of Barelas to enjoy food and culture.
Jacqueline Baca served on the Board of the Barelas Community Development Corporation (CDC).