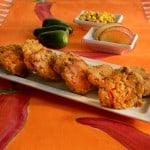 Servings

Prep Time

Twenty-four

corn cakes

25

minutes
Cook Time

Passive Time

10

minutes

10

minutes
Servings

Prep Time

Twenty-four

corn cakes

25

minutes

Cook Time

Passive Time

10

minutes

10

minutes
Servings

Prep Time

Twenty-four

corn cakes

25

minutes

Cook Time

Passive Time

10

minutes

10

minutes

Servings

Prep Time

Twenty-four

corn cakes

25

minutes

Cook Time

Passive Time

10

minutes

10

minutes
Cook green chile according to instructions on container.

Place cooked green chile in refrigerator while preparing the batter mixture.

Combine the next 7 ingredients together.

Add green chile and mix well.

Fold in beaten egg and buttermilk until mixture is well blended.

Refrigerate for 15-20 minutes.

Drop a tablespoon full of batter in pre-heated oil at 370°F and fry until golden brown.

Cook a few at a time ensuring each cake reaches a temperature of 165°F.

Sprinkle with sifted confectioner's sugar.