Flour Tortillas
Over six decades ago, we began rolling flour tortillas by hand on a piecrust roller.  As the first company to have flour tortillas on the retail shelf in the New Mexico market based on the recipe by Grandma Filomena (the founders' mother), we continue to make a hearty, authentic, homemade-like tortilla with the flavor, aroma and burn pattern of a traditional tortilla– just like Grandma made them.
Customer Testimonials
Grandma's® Tortillas - Original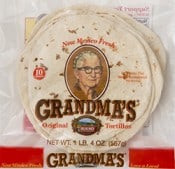 The local favorite of New Mexicans. Authentic, hearty tortillas based on the essence of our Grandma Filomena's original recipe. Looks, smells and tastes homeade. No vinegary preservative smell like other tortillas. Made right here in New Mexico. And now even softer. 10 count and 24 count.
Grandma's® Tortillas - Grande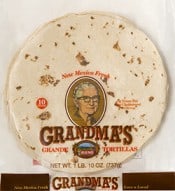 Unparalleled pliability perfect for rolling around your choice of burrito fillings without any cracking or crumbling. 10 inches. 10 count.