Prepared Products
Since 1951, we have been preparing authentic, traditional Southwestern favorites from scratch based on Baca family recipes. Each product is handmade in small batches with only the finest, carefully-selected ingredients culled from hundreds of choices. Your choice of: tamales, enchiladas, and red and green chile sauces.
Prepared Products Spotlight Product
Autumn Roast® Green Chile Sauce 28 oz.
"First of all, my husband and I are lovers of all things New Mexico. He lived in Las Cruces from 1981 to 2003 and attended NM State University. His job brought him here to San Antonio, Texas in 2003, and he misses NM and calls it home. So while in Walmart while food shopping, we saw your cheese Enchiladas and when we saw that they were made in Albuquerque, we had to try them. Especially with the picture of the Zia on the front. We each have a Zia decal on our cars, to let people know we love NM. Well, we love these Enchiladas! Such comfort food! And the convenience of preparing them in the microwave is the best! I read your company story on the box and enjoyed this history about the family. Thank you for making delicioso, affordable Enchiladas. We also had the ones with chile con carne on them as well. Oh my. Had to get an extra tortilla out just to up scoop it all up, yum! Thanks again for making us homesick, lol!! Will be buying many more. " – Lynn Wareman (Texas) Enchiladas
"Just discovered your enchiladas. Love them. Better than restaurants." – Lisa H
"I took these to a party last night, and they were a major hit. I want to pass along a 'trick' I tried and it worked great: after steaming the entire amount in the box for the recommended 15 minutes, I put them into a crockpot, lined with a double layer of aluminum foil, covered, and kept on a 'low' setting. It kept the tamalitos moist and at the perfect temperature for eating. As I said, people loved them . . . I hope you'll sell these year 'round because they are perfect party food." – Linda N McCormik (New Mexico)
"I just found your products last weekend, and couldn't believe how great they are!  It's not often you find a "TV" dinner that tastes good, let alone amazing!  And low calorie!  What??  So excited to add Bueno Enchiladas to my list of "staples" on my grocery list!  I love that there's a little bit of spice on the back end, and being a true pepper head, I have to spice it up a little bit, but wow!  Good stuff!  My favorite is the chicken enchiladas in jalapeno cream sauce, but enjoy the others too! 

Thanks for making something so yummy!" – Debby Rohrer
Tamales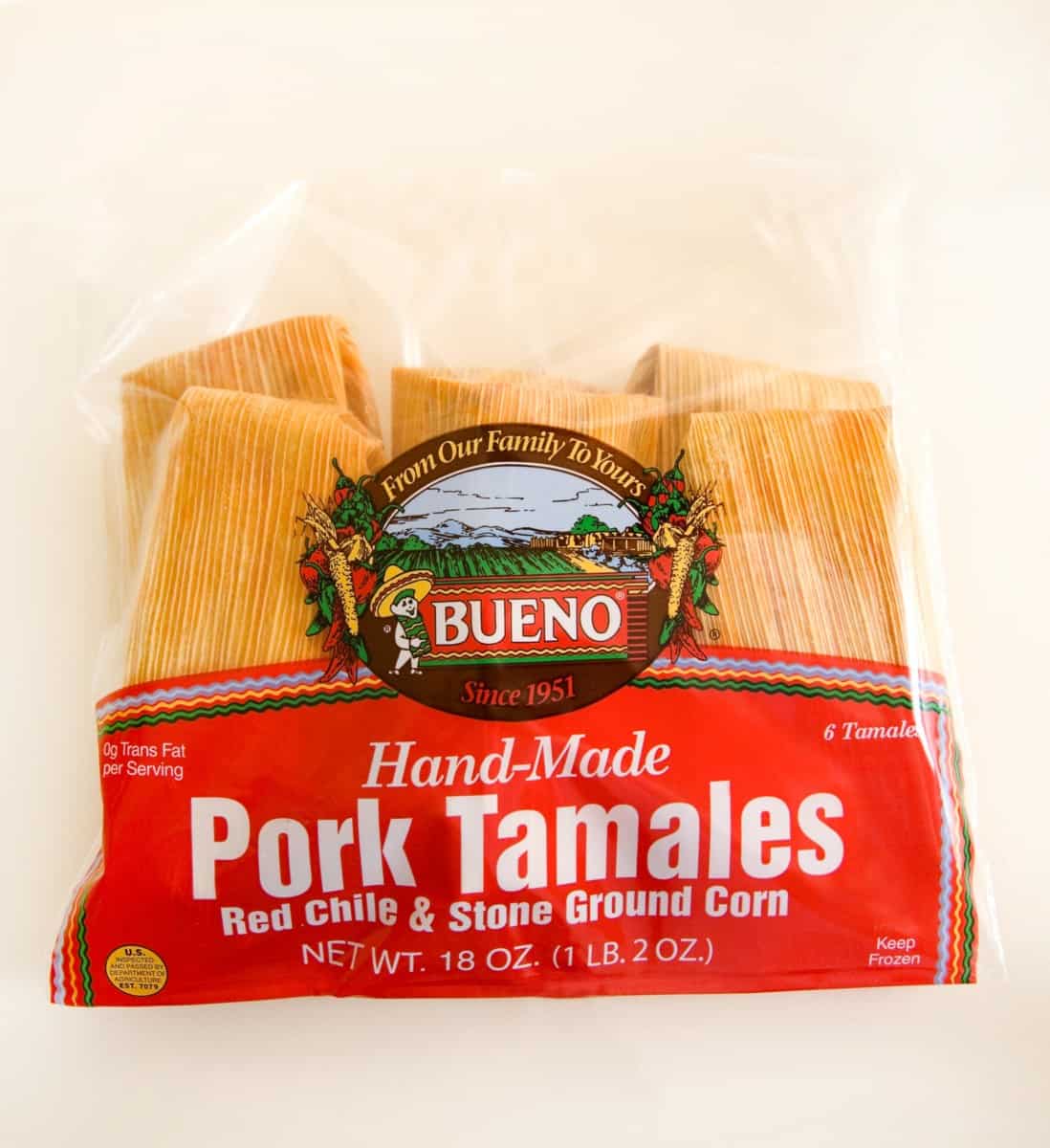 Succulent pork marinated in a rich red chile sauce wrapped in stone-ground corn masa and traditional corn husks. 12 count or 6 count.
Tamalitos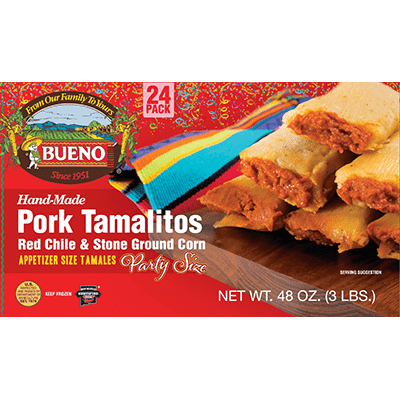 Hand-Made in small batches, these mini tamales have authentic flavor and texture, yet their size is trendy and fun, perfect for appetizers, parties, and small meals. Made with premium shredded pork that is marinated in savory red chile sauce and wrapped inside authentic corn masa that is made from whole kernel corn and ground with ancient lava stones.
Enchiladas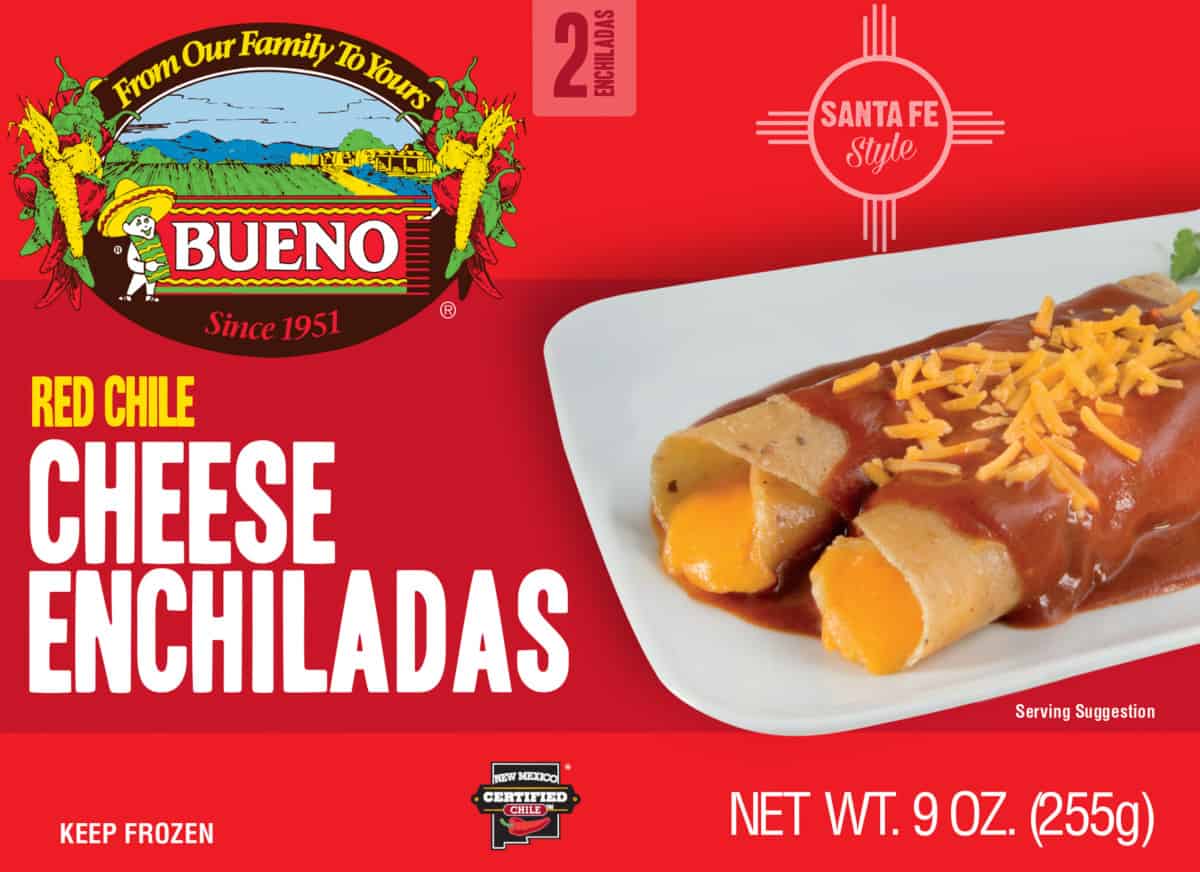 Comfort food at its best: the mingling flavors of warm corn tortillas, melted cheese, a sprinkle of onion and your choice of savory chile sauces, green or red. Red Chile Cheese, Green Chile Chicken, Red Chile Beef. 9 oz. or 30 oz. family value pack.
Frozen Sauces
Ready to heat and serve homeade sauces. Green Chile Sauce with Pork: adds pizazz to a variety of proteins, beans, enchiladas, eggs and nachos. Add potatoes and your choice of vegetables for a delicious stew. New Mexican Style Red Chile Sauce: Versatile as a marinade or sauce, poured over a variety of proteins, pasta, eggs, and as a basis for chili beans, posole, or carne adovada. 16 oz. pouches.
Shelf Stable Sauces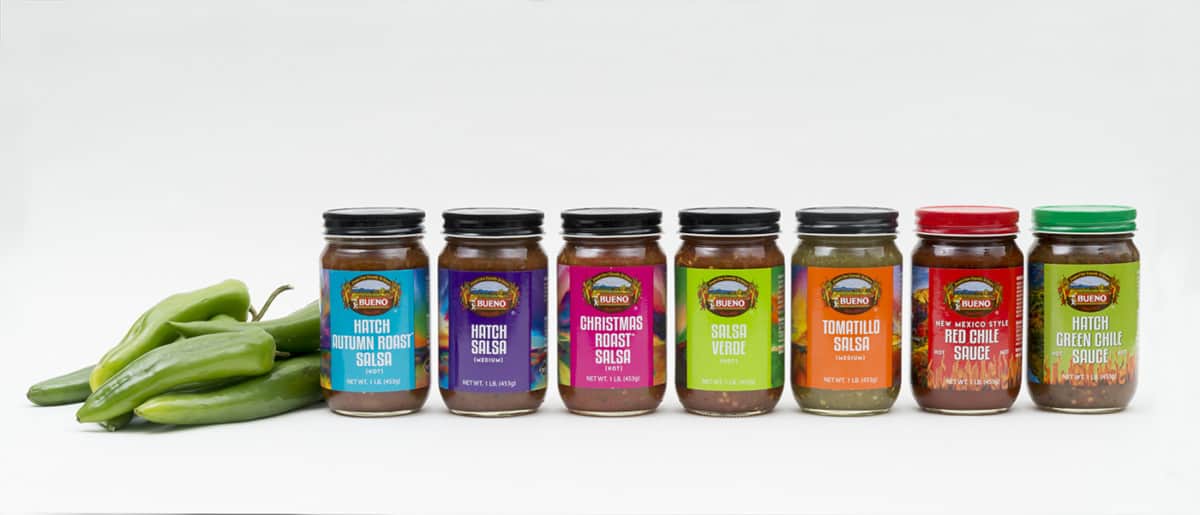 The finest sauces and salsas made from hand selected chile pods, flame roasted (green chile) or toasted (red chile) for natural robust flavor and blended with other premium ingredients.