This Hatch Green Chile Chicken Stew warms the soul on a cold evening. Simple and delicious.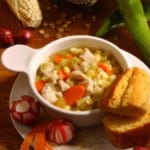 Heat skillet over medium heat. Add olive or canola oil.

Add minced garlic and diced onion and sauté until translucent, about 2 minutes.

Transfer garlic and onion into separate bowl with slotted spoon.

To hot skillet, add chicken pieces and cook, stirring until pieces turn white, approximately 7 minutes.

Add sautéed garlic, onion and remaining ingredients.

Simmer over medium heat until chicken and vegetables are tender, approximately 25 minutes.

Lower heat if rapid boil develops.
Hint: Use skinless, boneless chicken breast tenders to cut preparation time by a third.
Per serving: 130 calories; 20g protein; 2g fat; 11g carbohydrates; 95mg sodium; 45mg cholesterol.