These Fruit Empanaditas are little fruit turnovers that New Mexicans enjoy throughout the Christmas season. You can use any dried fruit but prunes, apricots and peaches are our favorites. Recently, we used mango, pineapple and cranberries for a delicious twist!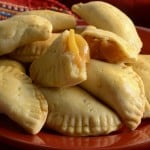 Using food processor, coarsely grind cooked fruit. Do not puree.

Transfer to a bowl. Add sugar and spices.

In a separate bowl, sift flour, baking powder and salt together.

Cut in butter and shortening. Add water. Knead lightly to form ball.

Cover with plastic wrap. Chill in refrigerator for at least 20 minutes.

Roll out dough on a lightly floured surface to ⅛ inch thick. Cut the dough in round pieces 3 inches in diameter. Roll out each round piece to about 4 ½ inches in diameter.

Fill with 1 heaping tablespoon filling. Dip fingertip in cold water and moisten bottom half of circle. Fold dough over filling and press together with fingertips or fork.

Place empanaditas on a cookie sheet. Puncture top of each empanadita twice with fork. Bake at 375ºF for 25 minutes and at 400ºF for 5 more minutes or until golden brown.
Makes approximately 2 dozen 4 ½ inch, 1 ½ oz. empanaditas.