This Traditional Green Chile Sauce contains pork and New Mexico grown green chile. It is the taste of home for generations of New Mexicans.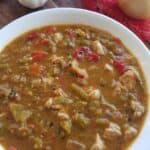 Heat water and frozen green chile in sauce pan over low heat. Cook for about 15 minutes.

Heat oil in a separate saucepan over low heat.

Add flour and stir until golden brown, making a roux.

Add onion and minced garlic. Cook until transparent.

Add pork and seasonings. Brown pork over medium heat.

Add green chile and water. Bring to a boil.

Cover and simmer over low heat 15 to 20 minutes.