This Hatch Green Chile Quiche is a spicy take on the iconic dish. Delicious and simple, this is a perfect dish for brunch or a light supper.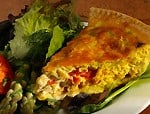 Servings
Ten
5 oz servings
Servings

Ten

5 oz servings
Place pie crust shell in a 9.5 inch pie dish. Bake in preheated oven for 8-10 minutes.

Cook frozen green chile in a saucepan over low heat for 15-20 minutes or to at least 165º F.

In a separate bowl, whisk together eggs and milk. Set aside.

In another bowl combine roasted corn and onion with tomatoes. Season with salt. Place mixture in baked pie crust shell.

Lower oven temperature to 400º F.

Top vegetable mix with half of shredded cheese. Pour in egg mixture. Spread chile evenly over top. Sprinkle with remaining cheese.

Wrap edges of pie crust with aluminum foil to avoid burning or use a pie crust protector.

Bake 50-60 minutes or until a toothpick can be inserted into center of quiche and it comes out clean. Let stand for 10-15 minutes before serving.