For a taste of home, Chile Colorado (Red Chile Sauce) is a traditional New Mexican sauce to use in enchiladas, tamales, burritos and posole to give Southwestern flavor. Also you may pour it over eggs, fish, pork or any type of meat to enhance its flavor.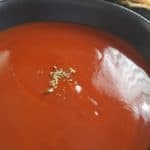 Heat water in saucepan over low to medium heat.

Add frozen red chile and cook about 10-15 minutes.

Meanwhile, heat oil over low heat in medium skillet. Add flour. Stir constantly to make a golden brown roux.

Stir red chile puree into roux.

Add remaining ingredients. Stir and bring to a slow boil.

Reduce heat and cover. Simmer for 10-15 minutes.