Tomatillo Chicken Tacos are a delicious take on tacos. Light and fresh, these tacos make a simple, healthy and tasty summer meal.
This recipe features BUENO® Tomatillo Salsa
We hope you enjoy the Tomatillo Chicken Tacos provided here. Try more of our delicious New Mexican recipes!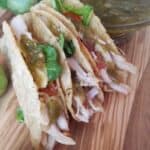 Heat ½ cup olive oil over medium-high heat in a heavy skillet. Gently fold each corn tortilla, leaving a slight opening at the tip and securing it with a toothpick. Deep fry each shell for about 30 seconds each side or until crisp. Drain on paper towel.

Heat 1 tsp. olive oil over medium heat in non-stick skillet.

Add chicken, coarse chile, salt and garlic. Cook over medium heat for approximately 5 minutes or until chicken is cooked through, stirring occasionally. Remove from heat. Allow to cool.

Evenly divide chicken, tomato, onion and lettuce among taco shells.
Option: To cut fat and calories, instead of frying tortillas, use them fresh or toast in the oven.