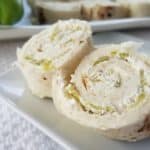 Servings

Prep Time

Nine

dozen pinwheels

10

minutes
Cook Time

Passive Time

30

minutes

10

minutes
Servings

Prep Time

Nine

dozen pinwheels

10

minutes

Cook Time

Passive Time

30

minutes

10

minutes
Servings

Prep Time

Nine

dozen pinwheels

10

minutes

Cook Time

Passive Time

30

minutes

10

minutes

Servings

Prep Time

Nine

dozen pinwheels

10

minutes

Cook Time

Passive Time

30

minutes

10

minutes
Servings:
dozen pinwheels
Cook chile to at least 165ºF. Thoroughly drain chile. When cool, combine with cheese.

Blend in remaining ingredients.

Spread mixture on each tortilla to ⅛ inch in thickness. Roll each tortilla and secure with toothpicks. Chill. Cut into ½ inch widths.

For variety, add chopped olive, pimento, roasted piñon nuts, grated radish, etc.