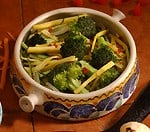 Servings

Prep Time

Eight

3 oz. servings

15

minutes
Cook Time

Passive Time

20

minutes

10

minutes
Servings

Prep Time

Eight

3 oz. servings

15

minutes

Cook Time

Passive Time

20

minutes

10

minutes
Servings

Prep Time

Eight

3 oz. servings

15

minutes

Cook Time

Passive Time

20

minutes

10

minutes

Servings

Prep Time

Eight

3 oz. servings

15

minutes

Cook Time

Passive Time

20

minutes

10

minutes
Heat olive oil over medium high heat in a large skillet.

Combine piquín, salt, garlic powder and onion powder. Quickly stir in half of this spice mix into oil to infuse it with flavor.

Add onion and garlic, stirring until lightly sautéed.

Stir in broccoli and cook until slightly tender.

Add second half of spice mix and yellow squash. Cook an additional 2 minutes.

Add zucchini. Continue stirring until vegetables are fork-tender.

Remove from heat and serve.
Calories 30, Protein 1g, Fat 1.5g (Saturated 0g, Trans 0g), Cholesterol 0mg, Sodium 120mg, Carbohydrate 4g (Fiber 1g, Sugars 2g),.Vitamin A 6%, Vitamin C 35%, Calcium 2%, Iron 2%.