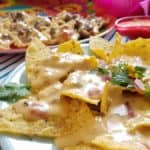 Servings

Prep Time

Six

4 oz.

5-10

minutes
Cook Time

Passive Time

15-20

minutes

10

minutes
Servings

Prep Time

Six

4 oz.

5-10

minutes

Cook Time

Passive Time

15-20

minutes

10

minutes
Servings

Prep Time

Six

4 oz.

5-10

minutes

Cook Time

Passive Time

15-20

minutes

10

minutes

Servings

Prep Time

Six

4 oz.

5-10

minutes

Cook Time

Passive Time

15-20

minutes

10

minutes
Combine both cheeses in a saucepan. Cook over medium heat until cheese melts, approximately 4 minutes, stirring constantly.

Stir in green chile sauce and green chile. Cook until heat reaches 165°. ..

Remove from heat. Serve with tortilla chips. Garnish if desired.
Option: Add 1 can of cream of mushroom soup for added flavor.
Note: Dip thickens as it cools so keep it heated.