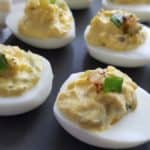 Servings

Prep Time

16

eggs (about 2.5 oz. each)

15

minutes
Cook Time

Passive Time

20

minutes

10

minutes
Servings

Prep Time

16

eggs (about 2.5 oz. each)

15

minutes

Cook Time

Passive Time

20

minutes

10

minutes
Servings

Prep Time

16

eggs (about 2.5 oz. each)

15

minutes

Cook Time

Passive Time

20

minutes

10

minutes

Servings

Prep Time

16

eggs (about 2.5 oz. each)

15

minutes

Cook Time

Passive Time

20

minutes

10

minutes
Servings:
eggs (about 2.5 oz. each)
Place frozen green chile in a saucepan over low heat. Cook 15-20 minutes covered.

Heat oil over low heat in a sauté pan. Sauté onion.

Add cooked green chile. Cook an additional 10 minutes over medium heat or until excess moisture evaporates. Remove from heat.

Split eggs in half. Remove eggs from shells. Place whites on a serving plate. Scoop out yolks into a bowl.

Stir in cooked onion and green chile mixture, celery, mayonnaise, mustard, salt and pepper. Mix well.

Scoop spoonfuls of mixture into each halved egg white.