Roasted Red Pepper Guacamole gets its robust flavor from roasted garlic and red pepper with green chile and a splash of lime adding brightness. While it is a very heart healthy food, it is also low in cholesterol, high in vitamins and contains mostly monounsaturated oils which are the "heart healthy" fats.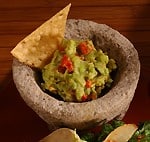 Servings
Seven
2 Tbsp. servings
Servings

Seven

2 Tbsp. servings
Servings:
2 Tbsp. servings
Heat small non-stick skillet to medium high.

In skillet, toast unpeeled garlic cloves about 15 minutes, turning as garlic chars slightly. Allow to cool.

Remove dry skins from garlic. Mince roasted garlic.

Combine mashed avocado, garlic, tomato, green chile, salt, scallions and lime juice.

Roast red bell peppers, mince, arrange on top and serve.
Option: you may use jarred roasted red peppers packed in olive oil as a shortcut.