Beans are the perfect health food to start the New Year right. Serve as a hearty stew with chile sauce. Or, you may refry for a side dish, burritos or tostadas.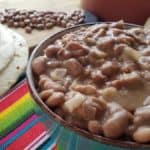 Servings
Six
8 oz. servings
Servings

Six

8 oz. servings
Place beans in pressure cooker. Add water. Secure lid.

Cook over medium-high heat for about 20 minutes or until cooker reaches a state of pressure. Continue cooking over low to medium heat for 45 minutes. Release steam. Uncover. Note: (You may also cook beans in a Crock Pot on high for approximately 6 ½ hours or until beans turn reddish brown.)

Add salt to taste. Serve.

Proceed to option if you prefer thicker beans with onion.
Option: Heat oil in small skillet. Add flour and stir until golden brown, making a roux. Add roux, onion and salt to beans. Cook uncovered over low heat for 15 minutes. Mash if desired.