This Basic Red Chile Sauce with Roux uses our New Mexico red chile powder. Our BUENO® Red Chile powders come in mild and hot spice levels– to satisfy any taste buds! When your sauce is ready to go be sure to smother it on any dish including burritos, omelets, enchiladas, and more.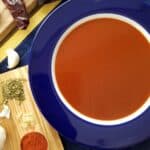 Heat vegetable oil over medium heat.

Stir in flour until flour turns golden. Add red chile powder.

Slowly add water and stir until there are no longer lumps.

Simmer uncovered 10 to 15 min. over low-medium heat.