There is nothing like the combination of Hatch Green Chile to enhance a pepperoni pizza.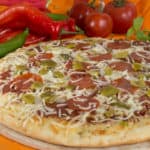 Remove both pizza rounds and place each on a pizza stone or round baking pan.

Spoon red chile marinara sauce onto each pizza round and spread evenly, covering entire surface.

Place pepperoni evenly over each pizza.

Sprinkle cheese evenly over each pizza.

Place green chile in microwave safe bowl. Loosely cover with plastic wrap and microwave on high for 1 minute. Drain. Spread green chile evenly over each pizza.

Sprinkle each pizza with oregano, if desired.

Place both pizzas in middle rack and bake for 8 to 10 minutes or until cheese is melted and lightly toasted.