Our Red Chile Korean Style BBQ Tacos are the perfect fusion of New Mexican and Korean BBQ.  If you love New Mexican red chile and the tanginess of Korean BBQ, these tacos will become your favorite!
This recipe features our New Mexican Red Chile Sauce
A traditional New Mexican style red chile sauce perfect as a topping for enchiladas, burritos and eggs. But it can also be used as a pizza base instead of the marinara sauce or as a marinade for a variety of proteins.  Add a Crockpot and a little time and your savory dinner is done! Use as a shortcut to have more time and energy for the things in life most important to you!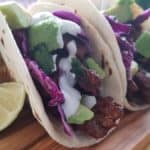 Red Chile Korean Style BBQ Beef
Red Chile Korean Style BBQ Beef
Combine first seven ingredients (except beef or vegetable oil) into baking dish.

Slice raw beef thinly against grain.

Add beef to marinade, mix thoroughly and cover with plastic wrap.

Refrigerate for at least 2 hours or overnight.

Remove from refrigerator and let stand prior to searing.

In a large skillet, heat vegetable oil over medium-high.

Sear marinated beef pieces one at a time two to three minutes per side until caramelized.

Remove cooked beef pieces from skillet and reserve on plate. Yield: About 3 cups
Add ¼ cup cooked meat to tortilla.

Garnish each taco with approximately 2 Tbsp. cabbage, 1 Tbsp. avocado and 2 tsp. onion and 1 tsp. cilantro.

In a small bowl, combine sour cream and lime juice to make a crema. Drizzle 1 Tbsp. crema over each taco or an amount to your liking.