Hatch Chile Cheddar Scones are a delectable bakery item to accompany green chile stew or beans. They make for great turkey jack sandwiches.
The secret ingredient for this New Mexico style scone is our Hatch Autumn Roast® Green Chile Salsa. https://buenofoods.com/product/autumn-roast/
We combine our most premium roast with our most premium green chile, grown in Hatch, New Mexico. If you are a Hatch chile aficionado and an Autumn Roast® fan, the pure and singular taste of triple roasted Hatch grown green chile will make this a cherished addition to your pantry. You will be passionate about all things New Mexico after tasting it! Certified New Mexico grown and Certified Hatch grown.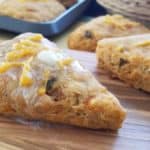 In the bowl of an electric mixer fitted with the paddle attachment, combine flour, baking powder and salt.

Add grated butter. Then, add ½ cup grated cheese to mixture. After each addition, beat once or twice to evenly distribute.

Add salsa. Mix at medium speed for 10-15 seconds or until dough just comes together.

Remove dough from bowl and cover with plastic wrap. Refrigerate for 15 minutes.

Remove dough from refrigerator. Place dough on lightly floured work surface.

Knead dough a few times until just combined.

Shape dough into 10 inch round about ½ inch thick. Using sharp knife, cut dough into 8 wedges.

Place wedges on ungreased cookie sheet. Lightly brush milk over each wedge. Top with a sprinkle of cheese.

Bake scones for 12-15 minutes. Transfer to wire rack to cool for 5-10 minutes before serving.