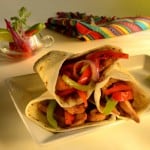 Servings

Prep Time

Ten

6 oz.

5-10

minutes
Cook Time

Passive Time

8-10

minutes

35

minutes
Servings

Prep Time

Ten

6 oz.

5-10

minutes

Cook Time

Passive Time

8-10

minutes

35

minutes
Servings

Prep Time

Ten

6 oz.

5-10

minutes

Cook Time

Passive Time

8-10

minutes

35

minutes

Servings

Prep Time

Ten

6 oz.

5-10

minutes

Cook Time

Passive Time

8-10

minutes

35

minutes
Mix soy and teriyaki sauces in bowl. Cut chicken into thin ¼" x 1" strips and marinate in sauce mixture for 30 minutes in refrigerator. Remove chicken from marinade. Let stand for 5 minutes.

Heat oil over high heat in a large non-stick skillet. Add chicken strips to skillet and quickly sauté chicken until golden brown.

Add onion and bell peppers to skillet and sauté on medium heat for 3 to 5 minutes until tender.

Divide fajita mixture evenly among tortillas. Add green chile sauce as desired. Fold and enjoy!