The puffed pillow of fried bread called the sopaipilla was thought to be "invented" in Albuquerque over 200 years ago. A good thing made even better when stuffed with a wonderful bean and green chile sauce mixture.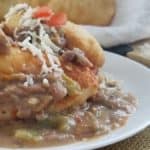 Mix sopaipilla mix, oil and water together to make a smooth dough. Let stand for 20 minutes.

Meanwhile, in a non-stick skillet, warm the beans and 1 ½ cups of Green Chile Sauce over medium heat for approximately 20 minutes or until excess moisture evaporates.

Stir in salt and garlic. Continue cooking for 5 minutes, mashing beans.

Roll out sopaipilla dough. Cut into 8 squares.

Heat shortening over medium heat. Place a square of dough one at a time in hot oil. Fry until golden brown on each side.

Split two seams of each sopaipilla with a paring knife. Stuff with bean mixture. Garnish with remainder of heated green chile sauce, tomato and cheese.