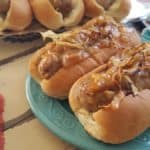 In a large skillet, heat oil over medium heat.

Sear sausage for 3-5 minutes on both sides.

Remove sausages from skillet and reserve on plate.

Drain all but 1 Tbsp. of fat from the pan. Return skillet to heat and add 1 Tbsp. butter.

Sauté garlic and onions until golden brown.

Add green chile sauce and beer. Stir to combine.

Add seared sausages to sauce. Cover and simmer on medium heat for 15-20 minutes until sausages are thoroughly cooked.

Remove sausages from skillet. Reserve.

Cook sauce, uncovered, for 10 additional minutes until reduced.

In a separate skillet, lightly toast hot dog buns with remaining butter.

Place sausages in buns. Top with sauce.