Arroz Dulce is a traditional sweet rice poplular with children and adults alike. It's another delicacy that people enjoy during the Lenten Season.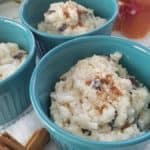 Servings
4
4 oz. servings
Servings

4

4 oz. servings
Bring water and salt to a boil in a 3 or 4 qt. saucepan. Add rice. Cover and cook over low heat 25 minutes.

In a separate saucepan, scald milk. Remove from heat.

When rice is ready, stir in scalded milk, raisins, vanilla and sugar. Cook over low heat 5 minutes, stirring constantly.

In a chilled serving bowl, beat egg white until stiff. Pour hot rice mixture over beaten egg white and gently fold together.

Sprinkle cinnamon on top. Refrigerate. Serve chilled.