For a Southwestern take on the iconic dish, we add Hatch Green Chile to our Hatch Chile Mac & Cheese.  This is comfort food at its best.
For Southwestern flavor, you'll find Hatch Autumn Roast® Salsa here. https://buenofoods.com/product/autumn-roast/
To make one of our most popular salsas, we combine our most premium roast with our most premium green chile from Hatch, New Mexico. If you are a Hatch chile aficionado and an Autumn Roast® fan, the pure taste of triple roasted green chile will make this a cherished addition to your pantry.  After tasting it, you will be passionate about all things New Mexico! Certified New Mexico grown and Certified Hatch grown.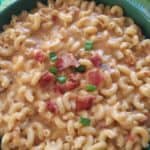 In a large saucepan, heat oil over low heat.

Add flour and stir until golden brown, making a roux. Let simmer for 5 minutes, stirring frequently to prevent burning.

Whisk in butter and half and half.

Continue to simmer until sauce is smooth.

Add cheese and salsa and fold into sauce until well mixed.

Rinse salsa jar with ¼ cup water and stir contents into sauce.
Add olive oil and salt to 2 quarts water. Bring to a boil.

Add pasta. Cook per package directions. Drain. Put cooked pasta in large serving platter.
Add green chile cheese sauce to pasta. Fold gently to coat. Top with green onions and crumbled bacon.