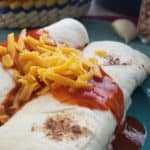 Servings

Prep Time

Six

15

minutes
Cook Time

Passive Time

20

minutes

10

minutes
Servings

Prep Time

Six

15

minutes

Cook Time

Passive Time

20

minutes

10

minutes
Servings

Prep Time

Six

15

minutes

Cook Time

Passive Time

20

minutes

10

minutes

Servings

Prep Time

Six

15

minutes

Cook Time

Passive Time

20

minutes

10

minutes
Sauté onion and garlic in a skillet lightly coated with a non-stick cooking spray.

Add pinto beans and oregano. Simmer mixture until any excess moisture has evaporated. Mash mixture

Stir ½ cup of the cheese into beans, allowing cheese to melt.

Spoon 2/3 cup bean mixture onto each tortilla. Roll up, placing each burrito seam side down.

Pour 1/3 cup of red chile sauce over each burrito and sprinkle ¼ cup cheese on top of each burrito.