Our Christmas Roast® Braised Beef Tacos are perfect for Taco Tuesdays or any weeknight dinner. The slow cook makes succulent and tender shredded beef tacos.
Our Christmas Roast® Salsa features in this recipe:
Everyone knows the delight of "Christmas"—green and red together in harmony.  For this top seller, we hand pick the perfect proportion of freshly harvested sun ripened red chile and green chile (our Christmas Roast® chile), roast it to perfection and combine it with premium garlic and spices. We promise it will delight your taste buds and bring peace to your yearning for red and green!  Simply put, this is the Baca family favorite and the most premium of our Salsas. Certified New Mexico grown.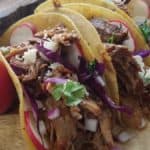 For dry rub, combine salt, pepper, garlic powder, paprika and cumin.

Coat all sides of beef with dry rub.

Tightly wrap meat in plastic, place in container. Cover.

Refrigerate for 2 hours or overnight.

Remove dry rubbed beef from refrigerator. Let stand at room temperature before searing.

In large skillet, heat 2 Tbsp. vegetable oil over medium-high.

Sear each side of beef for 2-3 minutes. Reserve.

To large crockpot add salsa and cola. Stir to combine.

Place seared meat over sauce mixture. Cover and slow-cook on LOW setting for 6 to 8 hours. At 6 hours, check for desired tenderness of beef.

Remove meat from sauce and shred or slice for tacos.
To medium skillet, add 1 Tbsp. oil and heat over medium heat.

Lightly sauté corn tortillas until warm and flexible.

Stack tortillas on plate and reserve.

Assemble each taco with sliced or shredded beef, cabbage, onion, radish and cilantro. Top with cheese crumbles. Option: Substitute 1 doz. pkg. BUENO® Skinny Mini® Tortillas instead of Corn Tortillas.