Southwest Salmon Croquettes have been a tradition in our family for Fridays during the Lenten season. Canned salmon, green chile and onion patties are perfect for a light meal. They are great on St. Patty's Day too if you prefer a lighter meal than traditional brisket or corned beef and cabbage.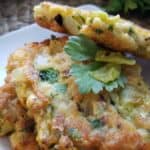 Servings
14
2 oz. patties
Servings

14

2 oz. patties
Servings

14

2 oz. patties

Servings

14

2 oz. patties
Place frozen green chile in a saucepan over low heat. Cook 15-20 minutes covered.

Heat 1 tsp. oil over low heat in a sauté pan. Sauté onion.

Add cooked green chile. Cook an additional 10 minutes over medium heat. Remove from heat.

In a separate bowl, mash salmon with a fork.

Stir in cooked onion and green chile mixture. Add remaining ingredients except for oil.

Heat ¼ cup oil over medium heat in a non-stick skillet.

Drop mixture by heaping tablespoon onto heated skillet. Flatten with spatula. Cook over medium heat until golden brown, approximately 3 minutes. Turn and cook approximately 2 more minutes or until golden brown. Drain on paper towel.