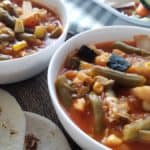 Servings

Prep Time

Twelve

8 oz. Servings

10

minutes
Cook Time

Passive Time

30

minutes

10

minutes
Servings

Prep Time

Twelve

8 oz. Servings

10

minutes

Cook Time

Passive Time

30

minutes

10

minutes
Servings

Prep Time

Twelve

8 oz. Servings

10

minutes

Cook Time

Passive Time

30

minutes

10

minutes

Servings

Prep Time

Twelve

8 oz. Servings

10

minutes

Cook Time

Passive Time

30

minutes

10

minutes
Spray a 4 quart saucepan with cooking spray.

Over medium high heat, sauté onion, garlic, turnip, and carrots about 6 minutes or until turnip and carrots have softened a little. Stir frequently to prevent burning.

Add chicken broth and vegetable broth, cabbage, green beans, green chile, tomato sauce, oregano and salt. Bring to a boil.

Reduce heat. Add zucchini and corn. Cover saucepan and simmer 30 minutes.