These New Mexico Style Red Chile Barbecue Ribs are savory and delicious. The tender meat falls off the bone and melts in your mouth.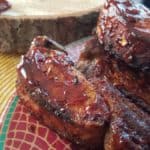 Love red chile and barbecue? These ribs are for you!
Servings
Eight
6 oz. servings
Servings

Eight

6 oz. servings
In a small bowl, combine red chile powder, pepper, granulated garlic and cumin. Sprinkle mixture liberally on both sides of ribs.

In a non-stick skillet, sear both sides of the ribs over medium-high heat until browned. Place side by side in a roasting pan.

In a separate bowl, combine red chile sauce and barbecue sauce. Pour over ribs.

Sprinkle coarse chile sparingly on top of ribs. Sprinkle liberally for richer chile flavor. Adjust amount to your taste.

Bake 3 hours or until meat is tender.