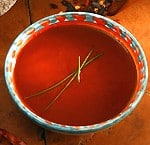 Servings

Prep Time

20 oz.

15

minutes
Cook Time

Passive Time

20

minutes

10

minutes
Servings

Prep Time

20 oz.

15

minutes

Cook Time

Passive Time

20

minutes

10

minutes
Servings

Prep Time

20 oz.

15

minutes

Cook Time

Passive Time

20

minutes

10

minutes

Servings

Prep Time

20 oz.

15

minutes

Cook Time

Passive Time

20

minutes

10

minutes
Remove stems and seeds from chile pods. Rinse.

Soak pods in lukewarm water 3 minutes or until soft.

Rinse chile pods of remaining seeds and remove veins.

Place chile pods in a saucepan and pour the 36 oz. of water to cover pods. Bring to a boil. Cover. Simmer over low heat 20 minutes.

Place pods in a food processor or blender with half of the cooking liquid. Add salt, garlic and oregano. Process or blend pods until smooth.

In a large skillet, heat oil over medium heat. Add flour and stir until golden brown, making a roux. Remove from heat.

Add blended chile to roux and stir until any lumps dissolve.

Return to heat and slowly combine remaining cooking liquid with chile to achieve a tomato sauce consistency.
Option: Add more water and/or low sodium broth for thinner consistency.
For thicker sauce, start with 24 to 30 oz. of water instead of 36 oz.