Breakfast Burritos are a perfect accompaniment to a day of outdoor activity. Potatoes, eggs and chorizo make the perfect combination for a hearty meal!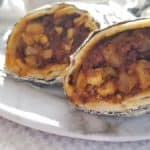 Servings
Six
7 oz. servings
Servings

Six

7 oz. servings
In a large non-stick skillet, heat oil over medium heat. Sauté onion.

Add potatoes. Fry until golden about 15 minutes.

Add eggs. Cook until scrambled. Place aside.

In a separate skillet, cook chorizo over medium heat 5 minutes. Drain on paper towels.

Combine chorizo with egg mixture. Add spices. Return to low heat and stir until blended.

Evenly divide mixture among 6 tortillas. Roll into burritos. Secure with toothpicks.