Carne Adobada is a New Mexican favorite. Marinate pork strips in traditional red chile puree seasoned with garlic and oregano.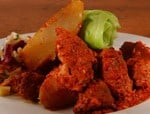 Place pork strips into a deep baking dish.

In a bowl, combine red chile, garlic, salt, coarse chile and oregano.

Marinate in refrigerator up to 24 hours.

Bake uncovered at 350º for 1 hour.