This simple Corn Quesadilla is perfect for a light lunch or an afternoon snack. Get the crisp crunch without the fat of a corn chip.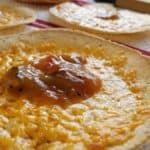 Top corn tortilla with cheese.

Sprinkle onion over cheese.

Place on a cookie sheet and bake from 2-3 minutes or until corn tortilla is golden brown and crisp.