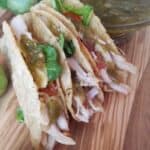 Servings

Prep Time

Twelve

tacos

10

minutes
Cook Time

Passive Time

30

minutes

10

minutes
Servings

Prep Time

Twelve

tacos

10

minutes

Cook Time

Passive Time

30

minutes

10

minutes
Servings

Prep Time

Twelve

tacos

10

minutes

Cook Time

Passive Time

30

minutes

10

minutes

Servings

Prep Time

Twelve

tacos

10

minutes

Cook Time

Passive Time

30

minutes

10

minutes
Heat ½ cup olive oil over medium-high heat in a heavy skillet. Gently fold each corn tortilla, leaving a slight opening at the tip and securing it with a toothpick. Deep fry each shell for about 30 seconds each side or until crisp. Drain on paper towel.

Heat 1 tsp. olive oil over medium heat in non-stick skillet.

Add chicken, coarse chile, salt and garlic. Cook over medium heat for approximately 5 minutes or until chicken is cooked through, stirring occasionally. Remove from heat. Allow to cool.

Evenly divide chicken, tomato, onion and lettuce among taco shells.
Option: To cut fat and calories, instead of frying tortillas, use them fresh or toast in the oven.