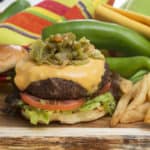 Servings

Prep Time

14

2 oz. patties

5-10

minutes
Cook Time

Passive Time

15-20

minutes

10

minutes
Servings

Prep Time

14

2 oz. patties

5-10

minutes

Cook Time

Passive Time

15-20

minutes

10

minutes
Servings

Prep Time

14

2 oz. patties

5-10

minutes

Cook Time

Passive Time

15-20

minutes

10

minutes

Servings

Prep Time

14

2 oz. patties

5-10

minutes

Cook Time

Passive Time

15-20

minutes

10

minutes
Coat large griddle evenly with 2 Tbsp. oil. Heat to medium high.

Salt hamburger patties to taste.

Cook hamburger patties for 7 to 8 minutes per side or to desired temperature.

Coat additional griddle with 2 Tbsp. oil. Sauté onions over medium high heat until golden brown.

Add green chile directly onto a separate part of the griddle and cook for 2 to 3 minutes or until it reaches 165'.

Place tops and bottoms of buns on griddle and toast for 1 to 2 minutes.

Top each toasted bottom bun with hamburger patty, cheese slice, sautéed onions and cooked green chile.

Top with lettuce, tomato and toasted top bun.