Salmon Burgers with Hatch Chile Aioli are a healthy and delicious substitute for beef. The green chile aioli balances the salmon patties perfectly.
You can find the special ingredient for this recipe, Hatch Green Chile Salsa, here: https://buenofoods.com/product/hatch-salsa/
Our most premium green chile, grown in Hatch, New Mexico is the key ingredient of this salsa and it will make your taste buds rejoice. If you are a Hatch chile fan, you will love this salsa. It's all about the Hatch green chile, pure and simple. The possibilities are endless for using this pillar of your pantry! You will rely on its flavor time after time to enhance dish after dish. Certified New Mexico grown and Certified Hatch grown.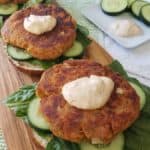 To medium mixing bowl, add salsa, mayonnaise, garlic and paprika. Stir to combine. Set aside.
Combine salmon, onions, olive oil, red wine vinegar, bread crumbs, eggs, parsley and spices in bowl of stand mixer. Using paddle attachment, blend for 1 minute.

Shape mixture into patties.

In a large skillet, heat butter over medium heat.

Place patties in heated skillet. Flatten with spatula. Cook patties for 2-3 minutes per side or until golden brown. Drain on paper towel.
To serve, place lettuce and cucumber on pretzel buns. Top with salmon patties and a dollop of Hatch chile aioli.