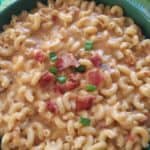 In a large saucepan, heat oil over low heat.

Add flour and stir until golden brown, making a roux. Let simmer for 5 minutes, stirring frequently to prevent burning.

Whisk in butter and half and half.

Continue to simmer until sauce is smooth.

Add cheese and salsa and fold into sauce until well mixed.

Rinse salsa jar with ¼ cup water and stir contents into sauce.
Add olive oil and salt to 2 quarts water. Bring to a boil.

Add pasta. Cook per package directions. Drain. Put cooked pasta in large serving platter.
Add green chile cheese sauce to pasta. Fold gently to coat. Top with green onions and crumbled bacon.