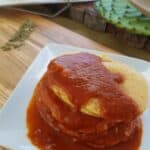 Servings

Prep Time

Six

6 oz. servings

15

minutes
Cook Time

Passive Time

20

minutes

10

minutes
Servings

Prep Time

Six

6 oz. servings

15

minutes

Cook Time

Passive Time

20

minutes

10

minutes
Servings

Prep Time

Six

6 oz. servings

15

minutes

Cook Time

Passive Time

20

minutes

10

minutes

Servings

Prep Time

Six

6 oz. servings

15

minutes

Cook Time

Passive Time

20

minutes

10

minutes
Beat egg whites until stiff. In a separate bowl, beat egg yolks.

Combine beaten egg whites, beaten egg yolks, garlic, flour, salt, baking powder and shrimp. Fold together lightly, by hand.

Lightly coat a non-stick skillet with cooking spray. Heat.

Drop batter by heaping tablespoonfuls onto heated skillet. Cook both sides over medium heat until golden.

Proceed to Red Chile Sauce.

Note: You may also fry tortas in vegetable oil.
Heat water in saucepan over low to medium heat.

Add frozen red chile and cook about 10-15 minutes.

Meanwhile, heat oil over low heat in medium skillet. Add flour. Stir constantly to make a golden brown roux.

Stir red chile puree into roux.

Add remaining ingredients. Stir and bring to a slow boil.

Reduce heat and cover. Simmer for 10-15 minutes. For Torta De Huevo only: drop prepared tortas into sauce and simmer 5 more minutes.